Using garage floor epoxy coating has numerous advantages. It offers a high durability floor finish for a busy garage space. The best garage floor epoxy provides resistance to frequent use, chemicals, oil spills, scratches, and any marks or deposits left from hot tires. Epoxy-coated flooring is simple to clean, looks impressive, and is also low maintenance! If you are keen on giving your garage a facelift, your ideal solution may be a garage floor epoxy kit. Together we'll take a look at the various garage floor epoxy coating options available and get some ideas of how to use this effective flooring solution.
Understanding Garage Floor Epoxy
Epoxy resin is a multipurpose coating, well suited in a variety of different areas. Applying epoxy as your garage floor coating is a simple enough project you might try at home. Garage floor epoxy paints offer practicality and long-lasting durability. There are a few kinds of floor epoxy available. You will have to decide between garage floor epoxy paints and garage floor epoxy coating. Either will provide specific properties and finish varieties. Keep following as we will cover both of these.
Garage Floor Epoxy Coating
For a clear epoxy finish, you might select a commonly found garage floor epoxy kit. This contains the two additives you need to combine to produce the transparent, durable epoxy solution. The even epoxy finish produced offers strength and it will be easy to maintain. You can find a number of epoxy products on the market. When you select one, ensure it is a specialized garage floor epoxy kit. This has been formulated to withstand the frequency and degree of contact you might find in a garage. The epoxy offers good adhesive qualities, bonding effectively to most surface types, and allows direct application over painted surfaces or concrete. Although applying this type of epoxy may take slightly longer, it provides a stronger transparent finish with great longevity.

Garage Floor Epoxy Paints
Using garage floor epoxy paints is also a well-favored choice for the application of floor coatings. These specialized epoxy coating solutions offer protection against any wear and tear in high-frequency traffic areas. This is a specific kind of acrylic-based latex paint, strengthened with epoxy. It does not require mixing or any additional pre-application measures. Once you apply the paint to the surface, it is enhanced by the high durability properties of the epoxy.
The application of garage floor epoxy paints is simple, and they provide a thin color coating. The finish appears as shiny colored paint, as opposed to transparent epoxy resin coatings. The best epoxy for garage floor is formulated specifically to withstand chemical spills, hot car tires, water, scratches, oil, and contact with heavy objects. This may be a stronger solution than plain old household paint, but it doesn't offer the level of durability of dual-component epoxy.
It is also possible to combine the use of clear epoxy coating and epoxy paint to create an excellent, high durability garage floor coating.
Advantages of Using the Quality Garage Floor Epoxy
Why is epoxy well suited for garage flooring? It is advantageous in this area for many reasons, making it a widely used solution. Let's take a look at some of the qualities provided by the best garage floor epoxy products:
Epoxy is resistant to oils, chemicals, and water
Epoxy flooring offers high durability
Avoids any buildup or deposits left by hot car tires
Epoxy coating offers scratch and impact resistance
Garage epoxy flooring offers very simple cleaning with little maintenance required
Epoxy coating provides a sleek, gloss surface with incredible longevity
The application of an epoxy garage floor kit is simple enough to apply yourself
Epoxy flooring is a far more cost-effective solution compared to most flooring types
Epoxy floor kits provide protection for concrete beneath from water damage
Epoxy flooring can be applied directly on painted surfaces and allows color and dye to be added during the process, as well as anti-slipping agents
Epoxy coating offers great adhesive properties with most surface types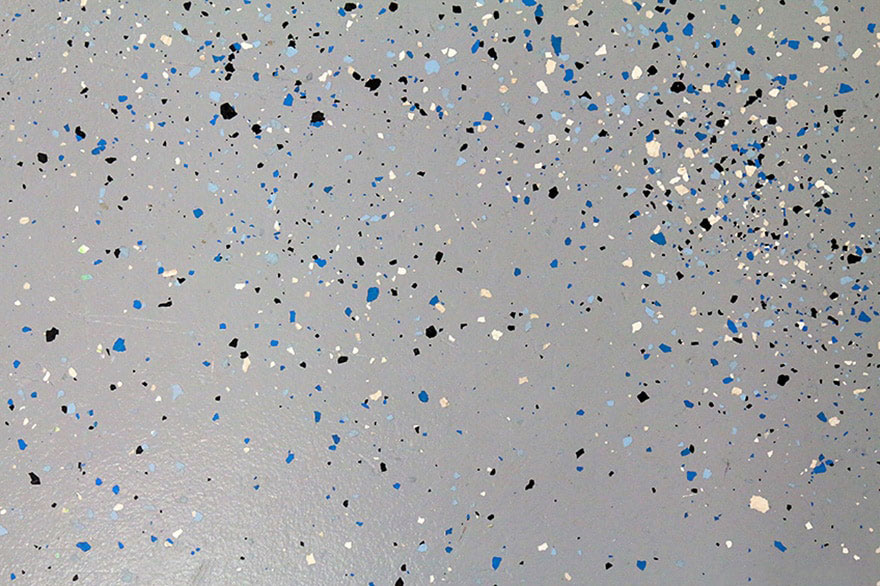 The Best Garage Floor Epoxy
Now that we understand the benefits of epoxy garage coatings, we can help you select the specific product for your needs. There is a range of epoxy resin types on the market and they all have specific qualities to suit the purpose for which they are designed. Achieving a lasting finish will require that you select the best garage floor epoxy for the job. We have demystified this process by preselecting some of the best garage floor epoxy solutions for various purposes.
The Best Epoxy Garage Floor Kit: EpoxyShield from RUST-OLEUM
This comprehensive garage epoxy kit from Rust-Oleum provides all the necessary ingredients to reface your garage floor. This is a solution aimed specifically at the home DIY enthusiast. With a relatively straightforward application procedure, it produces an excellent quality finish. EpoxyShield is up to 5 times stronger than epoxy paint, so it definitely provides a lasting durability solution.
This dual-component product is well suited for a multitude of different rooms and spaces. It offers an attractive gloss finish that allows easy cleaning. The coated surface will prevent the buildup from hot car tires and protect the floor from oil, antifreeze, gasoline, and salt. Once the application is completed, the surface will require at least 24 hours before you can walk over it and roughly 72 hours before you can drive on it.
Its formula contains low levels of VOCs and produces very little odor, making it suitable for interior situations. This high gloss finish will update the look of your garage, creating a space you can be proud of.
The Best Decorative Garage Floor Coating: DecoEffects by SUPERCOAT
This epoxy garage floor kit from the reputable brand Supercoat contains the coating layer, an anti-slipping agent, a urethane glaze, and the colored reflective flakes. When you have finished applying each of these in their respective steps, the result will be an attractive, lasting durability floor coating that offers easy maintenance. This industrial quality garage epoxy floor kit will cover an approximate area of 400-500 square feet (121-152m₂). The distinctive colorful chips and a shiny coating are distributed carefully into the fluid epoxy mixture. Once the coating has completely set and dried, it produces a dynamic effect that can transform the look of your garage space.
This is a water-based coating, contains low VOCs, and produces low levels of odor when applied. The resulting flooring is simple to clean, and safer for interior areas. The inclusion of the anti-slip agent reduces the level of risk considerably when the floor is wet. This garage epoxy kit offers versatility for use in your garage at home, or even in a retail showroom or warehouse setting.
Best Value: RUST-OLEUM EpoxyShield Professional Based Floor Coating Kit
This solvent-based garage epoxy floor kit uses a formula high in solids. Although it is higher toxicity than water-based epoxy solutions, it produces a better durability result. Epoxy floor kits of this nature offer increased longevity, which is ideal for garage floor surfaces, workshops, or basements. When the finish has set and dried completely it is chemically resistant and provides protection from water, as well as heavy wear and tear.
This industrial garage floor coating provides approximately 200 square feet of area coverage per gallon (60m₂ per 3.7l). This high durability solution is specially purposed for contact with motor vehicles and prevents the formation of pick-up from hot tires. This industrial quality product has an attractive semi-gloss surface, which also allows the addition of color flakes to the finish. All in all, an outstanding home improvement solution.
Best Garage Floor Gloss Coating: RUST-OLEUM Clear Gloss Coating
DIY enthusiasts are sometimes put off by the idea of using dual-component epoxy floor kits. In this instance, we suggest you use Rust-Oleum clear gloss epoxy coating. This leading acrylic-based formula allows application directly on painted floors, epoxy, and concrete. Once the coating has cured completely, the high-gloss finish it produces is chemically resistant. The surface allows the use of motor vehicles and offers great longevity. This multi-purpose coating offers a simple application process, allowing you to paint it over a variety of different interior and exterior surfaces. After applying it, the result is an impressive finish with great protective resistance which is well suited as garage flooring.
How to Choose the Best Garage Floor Epoxy
With such diversity in the range of available products, finding the best epoxy for garage floor can be a challenge. Your selection will be affected by the following factors which we cover in detail next.
Application
The application method is a crucial part of the process. The procedure of using a garage epoxy floor kit can take some time. The flooring surface will need to be prepared before you begin applying each epoxy coat, which can also take a while to dry completely. To prepare the surface you might carry out concrete repairs or etching, and it will need to be well cleaned and perhaps even primed. Before purchasing your flooring kit, ensure you are familiar with the procedure so you can make the necessary preparations.
The application also involves combining the epoxy mixture. Quality epoxy floor kits have simple mixing procedures, requiring basic mix ratios. If this seems too involved or tedious a process, perhaps you should rather opt for a single-component epoxy solution.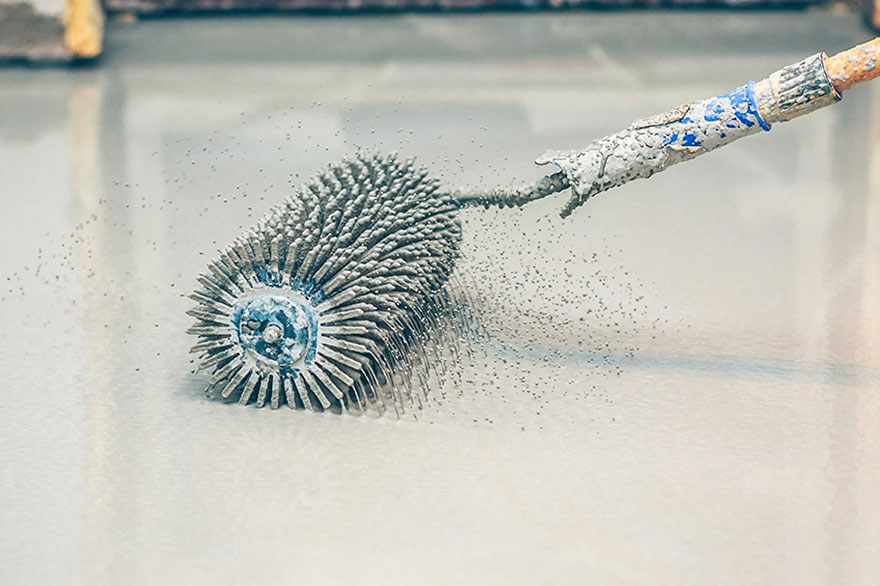 Water-Based or Solvent-Based Epoxy
When you decide on which floor epoxy solution is best suited for the task, this means choosing from either a water or solvent-based type of product. Each has characteristic benefits which may suit certain situations. Water-based epoxy formulas are usually favored as they are environmentally friendly. This product type is generally low odor, low VOC, and requires no chemical agents for the cleaning process. While they may be preferred for their ease of application, the disadvantage is the lower level of durability.
Solvent-based formulas produce a more durable and resistant solution, usually with greater surface adhesion quality and overall longevity. They do however produce toxic fumes during application and have greater safety requirements. The drying times are also longer.
How to Apply the Best Garage Floor Epoxy
As you are now more familiar with the products that will best suit your purpose, you can go about applying epoxy at home. Although this may be a lengthy procedure, it is certainly worthwhile. Be careful that you follow the steps accurately, so you will get the best resulting finish.
Surface Preparation
Let's proceed with the assumption that your floor surface is concrete. One of the critical factors affecting the resultant quality of epoxy flooring is the surface preparation. Your initial task is to ensure the concrete surface is even and free of holes or cracks. Should you discover any on closer inspection, these can be repaired using an epoxy concrete filler product. The surface will now require thorough cleaning. It is recommended to use a high-pressure hose and spray nozzle for this. Remember to leave no traces of dust, dirt, or grease. For optimal adhesion of the epoxy, the surface needs to be totally dry and clean.
Profiling the Floor
Next, the floor surface requires profiling. This involves dissolving the outermost layer of the floor, so the epoxy can bond optimally with the porous concrete and produce a durable surface. You can use an acid etching solution for this purpose, which is brushed and then scrubbed over the surface of the concrete.
You can also grind down the surface to expose the pores beneath, however this is a far more involved process. The surface will require the same level of cleaning once the profiling is completed, so use a vacuum for any dust and debris and rinse the surface completely.
Protecting the Area
Once it has set and cured, cleaning up or removing epoxy from a surface can be highly problematic. Therefore, take the necessary precautions to ensure your workspace is adequately protected. Prevent any epoxy spills by covering any furniture, walls, or fittings with plastic sheeting and masking tape.
Mixing the Epoxy
The floor is now prepared for applying the epoxy. Begin by gathering up your necessary tools and materials. You need to ensure that your equipment is readily available, as once you start mixing the epoxy, you will have limited time to work before the mixture hardens. Once you are sufficiently prepared, you can combine the epoxy components according to the product guidelines supplied. For effective results, this needs to be mixed thoroughly. At this point, color additives such as dyes and flakes can also be mixed in.
Applying the Epoxy
Now you can begin with the initial epoxy coating application. You can apply this with a specialized epoxy roller brush. Begin the application at the back end of the garage and move in the direction of the door. The best epoxy for garage floor has a self-leveling formula, making the application easier. Be sure to spread the epoxy evenly, keeping in mind that the coating must dry completely.
The length of the drying process will be affected by the surrounding environment and the properties of the specific product you are using. Once the coating has dried completely, you may apply additional layers by simply repeating the same procedure.

Applying a Top Coat
When you have completed the epoxy application and it has set properly, you can then apply a topcoat finish which can be polyurethane, epoxy, or polyurea. This high durability transparent coating provides a finish that lasts. Once you have smoothly applied the topcoat, you will need to allow 72 hours for it to totally cure.
FAQs
What Longevity do Epoxy Garage Floors Offer?
This is dependent on the type of product used and the characteristics of the environment, usually however epoxy flooring lasts roughly 5 to 10 years.
How Easy is the Application Procedure?
Applying epoxy garage floor coating is straightforward and relatively hassle-free. Although, the procedure may be quite long and require following a few steps. The simplicity of application and cost-effectiveness makes it a highly competitive option.
Do Epoxy Floors Crack?
Epoxy flooring offers lasting durability, with the ability to withstand constant abrasive contact. Over time you may encounter cracks in the finish when using certain epoxy products, due to the lack of flexibility. So to be safe, ensure you select the best garage floor epoxy available to you.
Choosing the best garage floor epoxy provides numerous advantages when maintaining your house. We trust that this guide will give you the courage to take on your own projects, as you will definitely enjoy the accomplishment of transforming your floor with a highly durable and impressive-looking finish. We wish you only success with your next DIY project!